There has been a lot of discussion around the rise of low-code/no-code solutions and recent market trends that shape the future of enterprises. While democratizing app development, the low-code/no-code approach has the potential to address one of the most pressing issues in the tech space—inclusivity. This was one of the topics of conversation during the Women in Tech Circle held at Creatio's Low-code Marathon. Katherine Kostereva, CEO and Founder of Creatio, Rebecca Wettemann, CEO and principal of Valoir, Lori Seal, CEO of Blytheco, and Aina Neva Fiati, Managing Director of iSystem Asia, gathered to share their point of view on the emerging revolutionary technologies, what it means to be a woman in the tech industry, and hopes for upcoming change. Below is a short synopsis of the discussion. 
"Closed Clubs": Challenges for women in tech
About 47% of women account for all employed adults, however, only 25% currently hold tech roles in the US. Furthermore, only 18% of CIO positions are held by women. The technology sector is still far from being inclusive. Most women in tech struggle to advance in their careers and tend to remain in STEM, tech educational programs or entry-level jobs.
The barrier to higher entry is guarded by who you know. Networking is a necessary part of living in a programming environment, and women are often excluded from the "closed clubs" that are reserved for their male colleagues. Being "the only one" in the team is still a common experience for many women in the male-dominated field. At the senior management level positions, around 40% of women say that they are often the only woman in meetings. The lack of female representation brings a vast bulk of obstacles to the overall technological advancements as it requires a diversity of opinions, skills, and approaches.  
 Gender inequality in the technology sector: There is room for change
Systematic exclusion from well-deserved career growth discourages many female professionals from trying to attain the same position as their male counterparts. Being too afraid to ask for what they deserve, women often end up not getting past entry-level positions. Low-code and no-code platforms bring new opportunities to women because they change the community around programming rather than changing the programming itself. This cultural, technological and societal shift encourages employers to be more open-minded. In turn, digital and tech professionals begin to value skills and abilities and be less mindful of gender.  
"In the low-code world, no one cares where you are and who you are. They care about your expertise, your knowledge, and your willingness to contribute and help others in the community" — Rebecca Wettemann 
A 2020 analysis by Mercer showed that every new step of career advancement in the tech industry has a lower percentage of women involved: women constitute 47% of support staff, 42% of professionals, 37% of managers, 29% of senior managers, 23% of executives, and only 17% of board members. The rise of low-code and no-code solutions can change this status quo and improve conditions for everyone, including women, in the workplace.
The changing business landscape brings new requirements to software developers worldwide. Coding is no longer the only skill necessary to succeed; flexibility and adaptability have roles to play as well. A new world of software development will not tolerate coders who are immune to change.
Workplace diversity is key to skill variety
Working with low-code and no-code tools requires a combination of well-developed hard and soft skills. A variety of emotional intelligence competencies such as inspirational leadership, conflict management and teamwork, however, are key to building and strengthening long-term relationships between software developers, business leaders and citizen developers to improve the overall success of technical initiatives inside companies.
"It's not just about being in the backroom and programming. It's about tailoring software to help companies get the job done, and a lot of that is changed management, envisioning elegant solutions, and functional design. And those skills, in my mind, are more critical to helping companies leverage technology than just hardcore coding" — Lori Seal 
Workplace diversity ensures that a variety of skills is present amongst teams. "Thanks to the low-code technology, we maybe can have more women involved as citizen developers" — Aina Neva Fiati 
Balance is key: Life and the office 
Katherine Kostereva, Rebecca Wettemann, Lori Seal, and Aina Neva Fiati also give valuable advice not only to women in the tech industry but to everyone struggling to balance their personal and work life. All four women agree that it is important to accept doing the best you can as enough without adding too much pressure and stress to an already overstimulating lifestyle. But it does help to know that there is a light at the end of the tunnel: a world where everyone can be a developer. It is not only a low-code or no-code revolution; it is an entire cultural shift.
Creatio Recognized in 2021 Gartner® Magic Quadrant™ for Enterprise Low-Code Application Platforms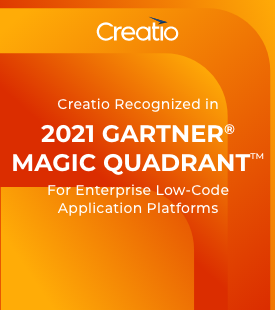 Creatio, a global software company that provides a leading no-code/low-code platform for process management and CRM, today announced it has been recognized in the September 2021 Gartner Magic Quadrant for Enterprise Low-Code Application Platforms (1).
The report evaluates 12 LCAP vendors, out of the hundreds that market their products as LCAPs, based on their Ability to Execute and Completeness of Vision. According to Gartner®, "Organizations are increasingly adopting LCAPs to enable fusion team development with IT and business to quickly deliver new solutions and modernize business capabilities." In their research they predict that "By 2025, 70% of new applications developed by enterprises will use low-code or no-code technologies, up from less than 25% in 2020."(1)
Creatio believes this recognition is thanks to enterprise-ready flexible low-code capabilities that empower businesses from various industries to automate workflows faster than ever. With Creatio's powerful low-code/no-code tools both business and IT teams can automate operational and CRM workflows of any complexity and gain the freedom to own their automation.
"Low-code and no-code application development has become a real game-changer for many organizations worldwide. We are happy to see that the market matures, and we are inspired by how our customers leverage Creatio low-code platform to automate enterprise-grade workflows across thousands of use cases without touching the code," said Katherine Kostereva, CEO and Founder of Creatio. "It's an honor for us to be recognized by Gartner in their 2021 Magic Quadrant for Enterprise Low Code Application Platforms," she added.
Try Studio Creatio for free >>
(1) Gartner, Magic Quadrant for Enterprise Low-Code Application Platforms, Jason Wong, Kimihiko Iijima, Adrian Leow, Akash Jain, Paul Vincent, 20 September 2021. GARTNER and MAGIC QUADRANT are a registered trademark and service mark of Gartner, Inc. and/or its affiliates in the U.S. and internationally and are used herein with permission
Disclaimer: Gartner does not endorse any vendor, product or service depicted in its research publications, and does not advise technology users to select only those vendors with the highest ratings or other designation. Gartner research publications consist of the opinions of Gartner's research organization and should not be construed as statements of fact. Gartner disclaims all warranties, expressed or implied, with respect to this research, including any warranties of merchantability or fitness for a particular purpose.
About Creatio
Creatio is a global software company providing a leading no-code/low-code platform for process management and CRM. The company has been highly recognized as a market leader by key industry analysts. Its intelligent products accelerate sales, marketing, service and operations for mid-size and large enterprises. Together with hundreds of partners Creatio operates in 110 countries worldwide. For more information, please visit www.creatio.com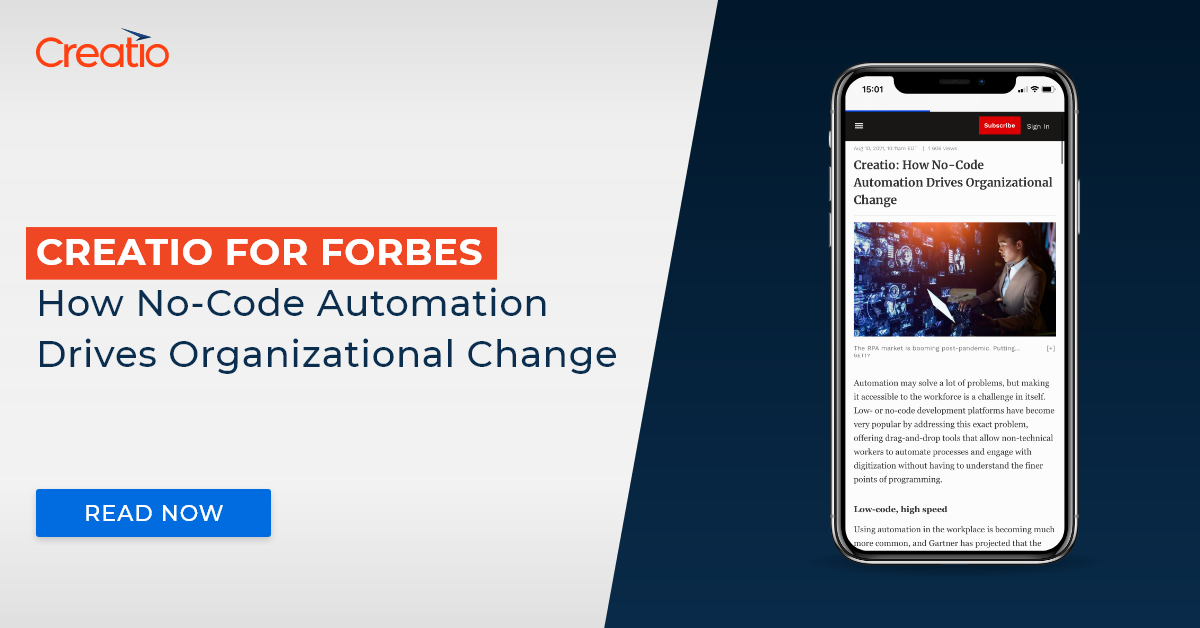 Since day one, Creatio has leveraged a no-code approach—we shared our experience with Forbes to help organizations accelerate change at scale.
Creatio has released its highly anticipated and first-ever IT, digital, and business leader survey report titled: "The State of Low-code/No-code 2021." The report provides senior level decision makers at companies of all sizes a look into how various organizations around the world are facing the digital transformation pressures of today, where exactly they are on that journey, and the role of low-code/no-code as an innovation catalyst. 
The global survey includes responses from 1,000+ IT, digital and business leaders from various industries and more than 90 countries spanning the Americas, EMEA and APAC. The respondents have either adopted or are considering adopting low-code/no-code technologies as part of their digital transformation roadmap. Creatio's research showed overwhelming support between the success of digital transformation and adoption of low- code/no-code technology. The State of Low-code/No-code Report distills Creatio's survey results into actionable takeaways for IT and business leaders making strategic and tactical decisions about low-code/no-code technology to drive competitive advantage. 
KEY FINDINGS FROM THE REPORT INCLUDE: 
Business leaders line up on the promise of low-code/no-code as an enabler of digital transformation, but a lack of experience with low-code platforms is the biggest obstacle to low-code adoption, according to 60% of respondents. 
The key benefit to low-code adoption is accelerated time-to-market (38%) followed by reduced app development cost (34%) indicating that innovation is prioritized over cost reduction when it comes to driving competitive advantage. 

Low-code tools are currently being adopted primarily for custom app development inside separate business units such as sales and marketing, service, human resources, or finance. 

Despite COVID-19 and the global pandemic, 95% of respondents pushed forward with their digital transformation initiatives. 
To find out more about what business and IT leaders think including the core barrier to digital transformation, what region of the world is most quickly adopting low-code/no-code technology, and the percentage of companies that said they planned to completely pause digital transformation initiatives for the remainder of 2021, download the full report here. 
Gartner predicts low/no-code will represent 65% of all app development by 2024. Clearly, it's the future, but what is it, and how can you turn your organization into a no-code company to get ahead of the trend?
No-code is changing how organizations build and maintain applications. It democratizes application development by creating "citizen developers" who can quickly build out applications that meet their business-facing needs in real time, realigning IT and business objectives by bringing them closer together than ever.
Anyone can now create and modify their own tools without complex coding skills using no-code's easy-to-use visual interfaces and drag-and-drop functionality. This creates organizational flexibility and agility, addresses growing IT backlogs and budgets, and helps fill the IT gap caused by a shortage of skilled developers.
Despite the many benefits, adopting a no-code platform won't suddenly turn you into a no-code company. It's a process. Here are three steps to help your transition:
1. Future-proof your tech strategy
For a long time, the threat of digital disruption and the subsequent need for digital transformation has been driving IT strategy. The pandemic made this threat all the more acute. Most organizations were forced to rapidly rethink their tech strategy in the new digital normal.
This strategy has been effective for many organizations, but it's also been largely reactive. Organizations have been fighting to keep up with the acceleration of digital trends. The opportunity with no-code, which is still in its early days, is to make that tech strategy more proactive.
We find that many organizations still think about tech strategy from a predominantly IT lens without considering organizational structural changes that could be around the corner. Think about it: Having a critical mass of citizen developers in five years could dramatically change how your organization allocates resources, organizes departments and even hires talent.
Don't future-proof your tech strategy for a slightly evolved version of your current organization, future-proof it for a fundamentally more democratized environment where everyone can build their own applications for their own needs. That's a profound change.
This isn't just a series of strategic conversations; this is a comprehensive audit that includes important stakeholders at every step of the process. The revision might highlight that there is room for improvement not only in your tech stack but also in your security or process management approach. You might find out that your company specialists lack initiative and are not invested in change or not competent enough to be high-performing.
Again, no-code is about creating citizen developers, so rethinking your tech strategy must put people and processes at the center of the conversation in addition to the technology, which, of course, enables everything.
2. Empower citizen developers
Once you have a holistic, people-centric approach to your larger IT strategy, you can begin to empower your employees to become developers.
Sometimes this is a difficult process. Some people just don't view themselves as "techies," and you'll need to change mindsets as much as skill sets. You can't expect to provide them with flexible no-code tools and then have them suddenly begin building out solutions to all their problems.
First and foremost, it starts with building a culture of ideation. Encourage anyone with an idea about optimizing their job or processes in their unit — no matter where they are in your organization — to bring it up. Build out processes that support a culture of suggestion and innovation.
The most common problem in creating a no-code company is employee fear or uncertainty of how their proactive ideas will be received by management. Furthermore, when an idea is accepted and then added to a long backlog and postponed by months, it frustrates and discourages your staff.
This is where training them to use no-code tools will be incredibly important. You should develop policies and frameworks that will explain the process everyone could follow should they decide to optimize their work and automate a business idea. Ensure that all employees have proper tools, policies, training and reference materials in place. They need to understand how to use out-of-the-box functionality as the basis of core modules, how to reuse pre-built templates, and what constitutes important potential use cases for your business.
This entire process can be somewhat concerning for your IT department, so you'll also need to clearly define their role in this new no-code environment. They still have much to do, but more as moderators. They play a key role in the process of operations automation and take ownership of security and system administration, complex integrations and overall consistency of the IT landscape.
3. Ensure cross-departmental alignment and transparency
IT leaders have been saying it for years: Silos are bad for business. But they're even worse in a no-code environment. There's too much collaboration and flexibility that comes with being a no-code company for departments to not talk to each other.
No-code can erase the communication gap between professional developers and business users because they are both developing on the same platform. The boundaries between IT and non-IT are erased when using a single platform, meaning that miscommunication related to the development of needed apps are diminished significantly as everyone begins to speak the same language.
Your role as a strategic leader is to enable this shared language of collaboration to filter down throughout the organization. Focusing on facilitating alignment as a top-down initiative should be one of your central priorities in a no-code company.
With no-code software, the tools and features necessary for the entire company no longer need to be disjointed or stand-alone. In fact, no-code platforms allow for the development of these features to exist on a single platform, aligning departments and simplifying workflows. The sales team may have a completely different workflow than the service team, but with no-code, they do not need two different platforms to help automate their operations. The unifying aspect of no-code platforms helps align various business units, leading to better collaboration and communication between them.
Building a no-code future
By turning your business into a no-code company, you increase agility and strengthen the resilience of your business, which is especially important today.
The promises of no-code are potentially massive, but the success of your transition into a no-code company relies on how you strategically engage employees and key stakeholders to build a siloless culture of empowerment where anyone can automate processes in minutes.
Here is a link to the original word by TechCrunch.
Here at Creatio, we draw great inspiration from the solutions our customers and partners build on our low-code platform for process  management and CRM – the low-code movement is empowering a new generation of citizen developers in companies of all types and sizes. This unites the people of Creatio around a single vision – to create a world, where everyone can automate business ideas in minutes. 
The ability to embrace this disruptive innovation has brought us to an important decision – to accelerate the next phase of Creatio growth as we double down on our mission to help organizations transform into low-code companies. 
Thanks to the loyal customers, channel partners and a dedicated team of 600 people, Creatio has been scaling organically since its founding. Today, on the heels of the rapid expansion we are raising the first-ever funding in the history of the company – a minority investment of $68 million to fuel the growth of Creatio's low-code platform for process management and CRM. 
We'll use these funds for the ongoing development of the Creatio technologies, sales and marketing expansion, and support of our channel partners in 110 countries worldwide. The funding is a minority investment, with Creatio's strategy, leadership team, product vision and commitment to customer success remaining unchanged. 
Boston-based growth equity fund, Volition Capital, that invests into the high-growth software companies, led the funding round with participation from Horizon Capital. We are fortunate and proud to partner with these top firms as we expand our global footprint. Check out the video intro with our new investment partners. 
Creatio team is fully committed to building toward the vision of creating a world, where any company can automate and change their business processes at speed and scale. There is an exciting journey ahead of us, and I look forward to the continued success together with our customers, channel partners and investors! 
Katherine Kostereva, Creatio CEO and Founder