Creatio Presents Its Major Platform Update, 8.0 Atlas, to Build Applications and Workflows with No-Code and a Maximum Degree of Freedom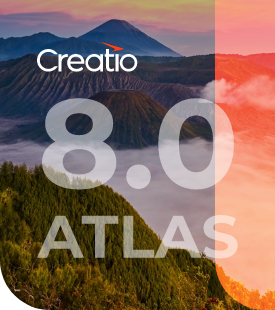 The Atlas release includes reimagined no-code capabilities grouped into three major innovations: No-Code Designer, Freedom UI Designer, and Composable Approach
Creatio today unveils Creatio 8.0 Atlas — the evolution of its platform with the next-level tools to empower creators to build enterprise applications and workflows with no-code and a maximum degree of freedom. The update will be available to all Creatio customers today and is compatible with previous versions. The release is introducing several innovations including a consolidated No-Code Designer, an elevated canvas-style UI designer (Freedom UI Designer), and a composable approach to building applications.
No-Code Designer 
In the release, Creatio consolidates, simplifies, and significantly extends all application design tools into the unified No-code Designer, a module where no-code developers can design and launch their applications. The designer includes the ability to create and configure new and existing pages, set up data models and access rights, design workflows, and enable no-code integrations using SOAP and REST services. The No-code Designer also contains the ability to access advanced configuration tools available for professional developers. This facilitates the collaborative development of fusion teams.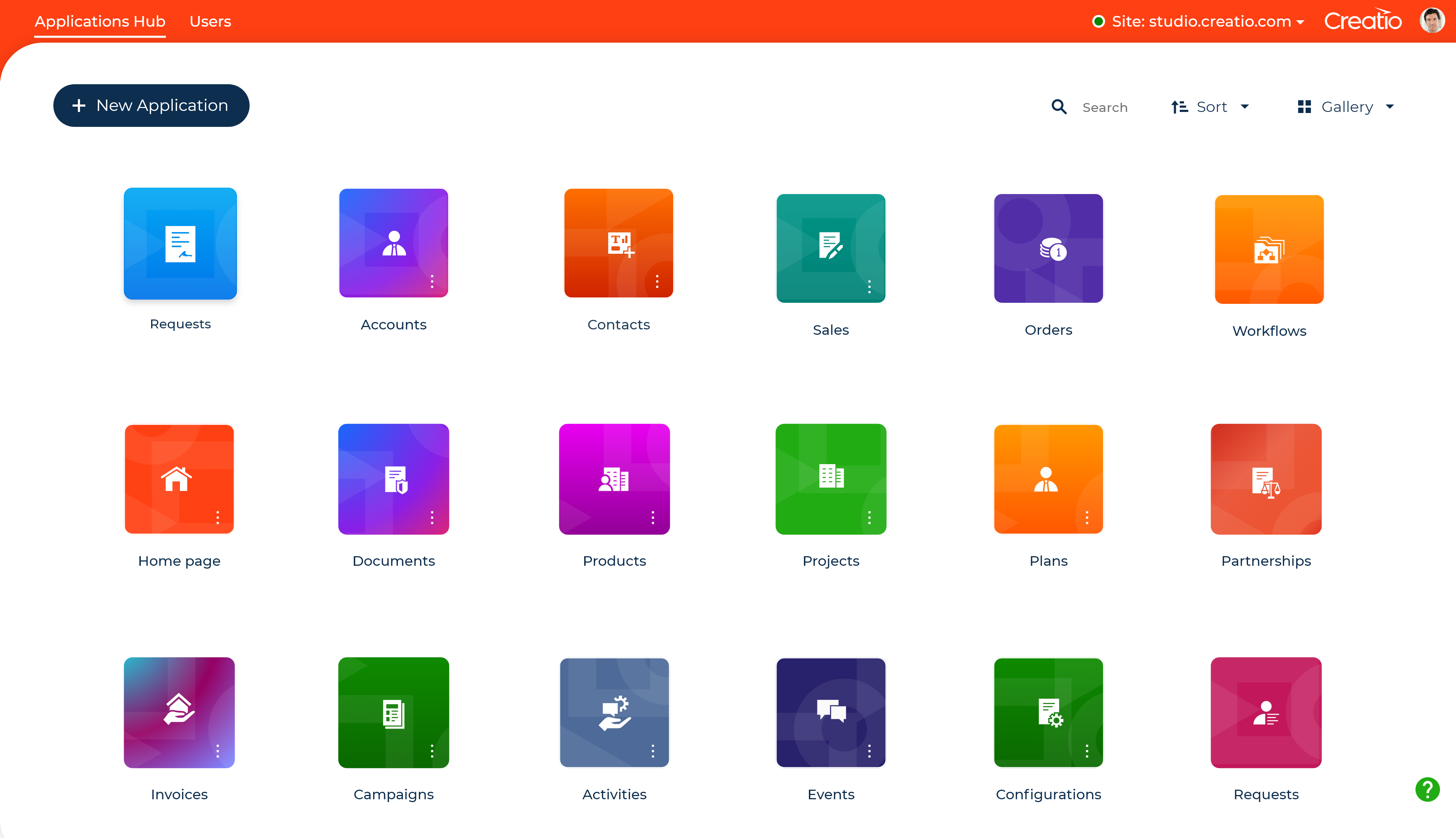 Freedom UI Designer
In Atlas 8.0, Creatio launches a completely new framework for UI/UX configuration called the Freedom UI Designer. It empowers no-code developers to design an interface of any type enabling a maximum degree of freedom. The Freedom UI Designer contains a library of predefined views, widgets, and templates to accelerate the design process. The new version allows users to apply different UI themes and styles. The Freedom UI Designer is fully adaptable to different screens and devices and complies with modern accessibility requirements. Additionally, Creatio will be using its powerful AI engine to drive recommendations to no-code developers, suggesting elements and styles for different vertical and horizontal use cases based on a self-learning mechanism.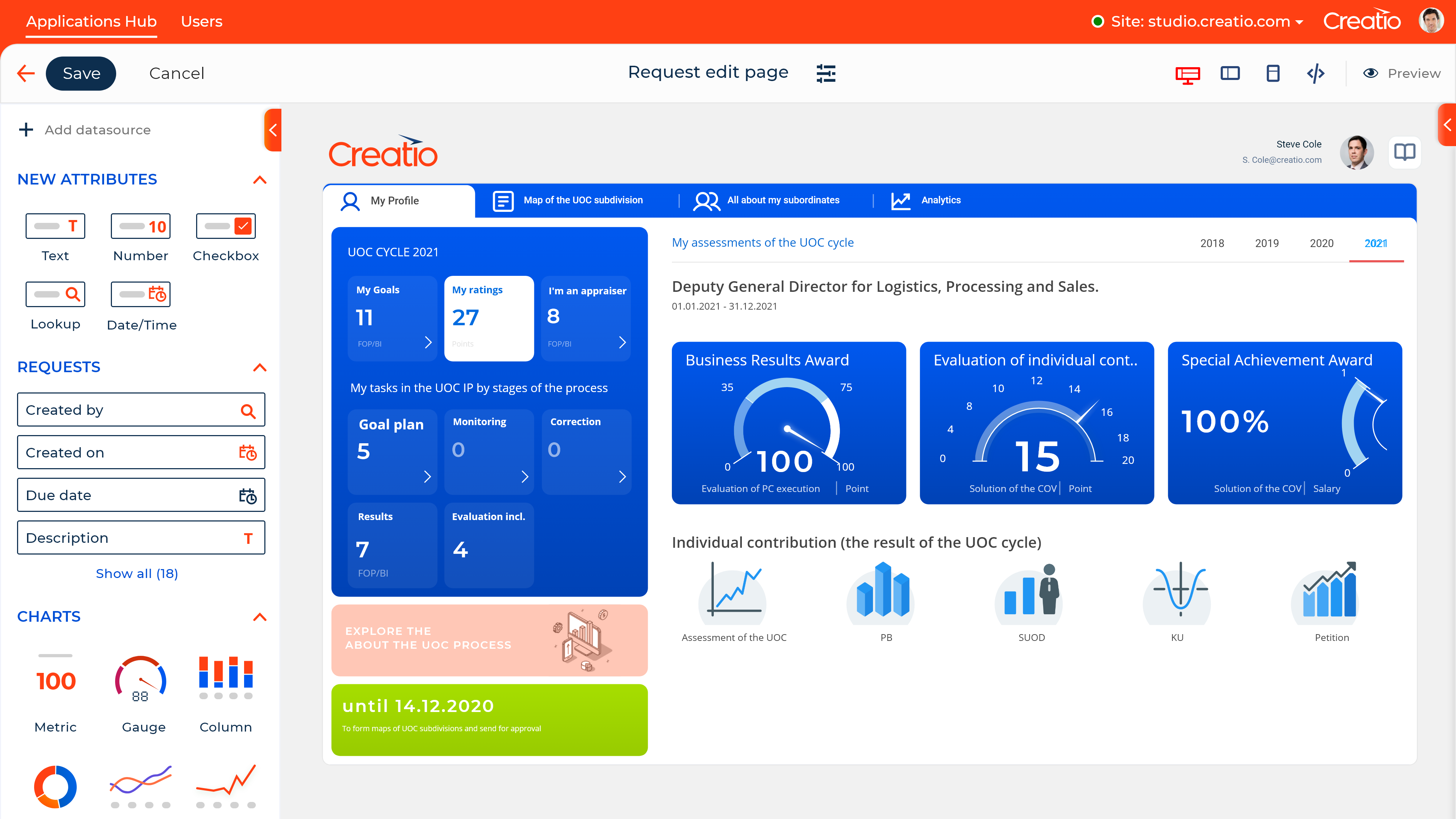 Composable Approach
Composability is another innovation that will be introduced in the new version. Creatio 8.0 enables no-code developers to use composable elements at each stage of the development process. The different types of composable elements can be accessed directly from the designer. The composable no-code development process allows users to assemble applications and reuse components leveraging the "Lego blocks" approach. This also includes the ability to utilize 750+ Creatio Marketplace applications, connectors, and templates, that can be deployed with one click and used in the design process. In the meantime, the release includes enhanced ALM capabilities that provide no-code developers with the ability to view available instances, perform typical deployment operations and orchestrate applications at each stage of the development lifecycle. The Application Hub delivers the possibility to organize the work of different teams (no-code architects, no-code developers, professional developers, etc.), while managing collaborative processes and invitations.
The Atlas 8.0 release is being introduced today during Creatio's special event, Freedom Release. In the first part of the virtual show, attendees have a chance to enjoy a thought-provoking discussion about no-code hosted by the Project Management Institute's Head of Citizen Development and Creatio's key partners and executives. Creatio's CEO and Founder Katherine Kostereva will unveil the company's vision for the future of no-code and key values of the Creatio platform. The core part of the event will unleash all major enhancements and upgrades of Creatio 8.0 Atlas. Finally, for the event's exciting finale, a special guest, Grammy-nominated international DJ Paul van Dyk will perform a special freedom set dedicated to the release. The new version will be available to all users immediately after the Freedom Release virtual show.
Test-drive Creatio's award-winning platform for free >>>
ACCELERATE: NO-CODE REVOLUTION NOV 9-30, 2021 | ELKE WERKDAG LIVE
Een wereldwijde livestream conferentie voor IT en digitale leiders over de toekomst van hun bedrijf en de inzet van low-code software.
ACCELERATE GLOBAL
Een wereldwijde 24-uurs livestream conferentie voor IT en digitale leiders over de toekomst van hun bedrijf en de inzet van low-code software.
Onze wereldwijde 24-uurs conferentie heeft meer dan 200 sessies verdeeld over vijf tracks:
• Accelerate Global
• Industry in Focus
• Creating a Low-Code Company
• Developing on the Creatio Platform
• Doing Business with Creatio
voor IT, digitale, zakelijke leiders en managers, maar ook voor bedrijfsanalisten, projectmanagers, burgerontwikkelaars en iedereen die geïnteresseerd is in het beheersen van hun vaardigheden en verdieping van kennis over bedrijfstransformatie, winnende technische strategieën en low-code-ontwikkeling.
Bekijk de volledige lijst met 200+ sessies en doe vandaag nog mee!
WEBINAR
How are companies utilizing low-code CRM to unify sales, marketing and service: real-world use cases
In deze webinar mochten we ruim 150 deelnemers wereldwijd verwelkomen.
Bent u ook benieuwd naar onze klantcases, kijk dan deze webinar terug via Youtube
Creatio Arena
Online VS Face-to-Face
Onze tweewekelijkse serie, Creatio Arena, komt aanstaande donderdag 30 april voor een live debat over online versus face-to-face: zal de manier waarop we zaken doen voor altijd veranderen nadat de quarantaine is afgelopen?
Mis je kans niet om deel uit te maken van deze unieke ervaring. Stem af op 30 april om 10 uur EST | 16:00 uur CET 15.00 uur BST:
• Zoek uit of virtuele communicatie in de toekomst de meeste persoonlijke interacties zal vervangen
• Stem en geef commentaar tijdens de livestream om argumenten te ondersteunen en aannames te uiten
• Geniet van een live strijd om meningen en krijg waardevolle inzichten in de hot-hot-issues van vandaag
Een hete discussie met tonnen inzichten van invloedrijke leiders op zakelijk, digitaal en technologisch gebied is gegarandeerd!
Creatio update v7.16
Creatio introduceert een grote update voor zijn low-code platform voor procesbeheer en CRM
Creatio v.7.16 is nu uit! De nieuwste update bevat meer dan 500 verbeteringen en aanpassingen aan de kern van de superkrachten: een low-code platform om iedereen een ontwikkelaar te maken; BPM-engine om processen sneller en uniform CRM te veranderen om verkoop, marketing en service op elkaar af te stemmen.
Webinar
Why now is the time to invest in CRM
and how low-code can help drive ROI
Wilt u weten: waarom is het nu de tijd om te investeren in CRM en hoe low-code de ROI kan stimuleren? Kijk op 28 april 11:00 uur EDT naar onze gezamenlijke webinar met Tata Consultancy Services!
U leert hoe u een businesscase opbouwt die de ROI en TCO van low-code CRM-technologie onthult en berekent om inkomsten te genereren in steeds veranderende marktomstandigheden.
Ontdek hoe u tegelijkertijd het klantverloop kunt verminderen, de omzet kunt verlagen en de kosten kunt verlagen met een uniforme low-code CRM-oplossing die de operationele wendbaarheid en flexibiliteit verhoogt … en nog veel meer!
Kennissessie WAB en Sales en Bier
WAB en Sales en Bier
Donderdag 12 december, Jopen Proeflokaal, Emrikweg 21 Haarlem
13:00 – 17:00

WAB, Wet arbeidsmarkt in balans
De Wet arbeidsmarkt in balans (WAB) treedt per 1 januari 2020 in werking. Met de wet verandert er veel, onder andere op het gebied van tijdelijke arbeidsovereenkomsten, transitievergoedingen, de bescherming van oproepkrachten, de WW premie bij vaste contracten etc. Kortom, het is van groot belang dat u en uw bedrijf zijn voorbereid op deze nieuwe wetgeving! Nathalie Wolters van Re:flex Advocaten zet uiteen wat de gevolgen van de WAB in uw specifieke situatie zijn.
Mr. Nathalie Wolters, Arbeidsrechtadvocaat en partner bij Re:flex Advocaten. Zij is sinds 2003 advocaat en specialiseerde zich al snel in het arbeidsrecht. Sinds 5 jaar vormt zij samen met Chantal van den Berg Re:flex Advodaten. Zij zijn gevestigd in Haarlem. 
Succesvol zijn in sales: Toeval of structurele aanpak?
We zijn allemaal druk met de verkoop van onze producten en diensten. Netwerkbijeenkomsten, koud bellen, mailingen, etc. We halen alles uit de kast om succesvol te zijn en onze groeidoelstellingen te realiseren. Het vinden, en onderhouden, van bestaande contacten, we doen alsof het belangrijk vinden. Wanneer was het laatste contact ook alweer? Met wie, en waarover.
Davey Daemen CRM consultant van Webrixs is gespecialiseerd in het structureren van de volledige klantenreis. Hij heeft jarenlange ervaring bij bedrijven in verschillende branches, met verschillende CRM vraagstukken.
CRM betekent een combinatie van bedrijfsstrategieën, software en processen die helpen bij het opbouwen van langdurige relaties tussen bedrijven en hun klanten.
Creatio Global Tour in Paris
Bonjour à tous!
Over 2 weken is het moment dat het #ACCELERATE-evenement voor zakelijke en technische leiders naar Parijs komt! Het evenement vindt plaats op 7 november in InterContinental Paris Avenue Marceau.
Bekijk de namen van alle sprekers op de website van het evenement en sla je plek nu op
November 7 | InterContinental Paris Avenue Marceau


9:00 AM – 2:00 PM
WHAT'S ON THE AGENDA
INSIGHTS ON CUSTOMER-OBSESSED BUSINESS STRATEGY
Lead your organization into a successful digital future with tactical actions, insight and inspiration from key industry experts.
TECHNOLOGY TRENDS BY 2025
Uncover major technology trends from leading industry experts to help you innovate faster and increase teams' performance.
REAL-LIFE CASE STUDIES ON HOW TO REFINE BUSINESS PROCESSES
Learn how leading companies have transformed their processes in marketing, sales, service and operations within just a few months to stay competitive in an increasingly dynamic environment.
EMBRACE "EVERYONE A DEVELOPER!" CONCEPT
Explore how low-code / no-code approach and 'everyone a developer' concept can help to overcome a challenge on accelerating business goals with limited IT resources.